Thanks again to these great golf sponsors, please support them as they are supporting you and the community.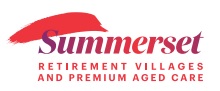 From humble beginnings
It was the vision of founder, John O'Sullivan, and it's one that continues to guide us today, providing homes 'good enough for Nana.'
Summerset started in 1997 with a vision to create a retirement community that our own parents would be happy to call home. A place that puts the respect for its residents at the heart of everything we do.
Gala Night Sponsors
Thanks to the great support of these sponsors